How to Apply for IPOs in Nepal? Beginner's Guide
Do you want to apply for IPOs in Nepal? Check out this complete guide on how to apply for IPOs online and offline in Nepal.
IPO (Initial Public Offering) refers to the process by which a private company issues shares of the company to the public to raise capital from the public investors for the first time.
IPOs are believed to be the best way to get started in the stock market. And it is very true in context to the Nepali stock market. You get to learn the basics of the stock market, invest in stocks with bare minimum capital and in most cases, there is no loss at all in the IPOs.
IPOs of various companies are issued at different times in Nepal. In this article, I will try to explain everything you need to know and every requirement you need to fulfill before applying for IPOs of any company.
If you haven't already checked out the blog post on how to get started in the stock market in Nepal, go ahead and check the article first.
Requirements:
A bank account
A Demat account
Meroshare account for online trading
CRN Number
Now let's get started on how you can apply our first IPO. You can apply for IPOs via both online and offline methods and I'll include both the methods here in brief.
IPOs are to be applied through your bank which provides ASBA facility. ASBA (Application Supported by Blocked Amount), as the name suggests is an application where the funds in your account are blocked when you apply for an IPO. The amount doesn't leave your account unless you are allotted the shares.
Bank Account
Now that you have learned about ASBA, you must open a bank account that provides ASBA facility. Most of the commercial and development banks have this facility and if you already have a bank account you don't need to create a new one for the sake of investing in IPOs.
Also, it is a wise option to create a bank account with the bank that allows you to create a Demat account.
Demat Account
Demat account is an account that is used to hold financial securities or stocks in electronic form.
You must have a Demat account if you want to invest in the Primary market (IPOs) or secondary market (via brokers). You can get a Demat account with a Depository Participant. Here's a list of such companies which provide this service.
Most of the banks have their own capital which provides the service of opening a Demat account. I would recommend opening a Demat account with your bank's capital.
Here's a complete guide on creating a Demat account in Nepal and everything you need to know about Demat in Nepal.
An individual can have at most two Demat accounts but I'd recommend creating a single account.
Also create meroshare account which enables you to apply for IPOs online, do WACC and EDIS and transfer shares online.
You can do all this via the same bank which provides this service.
Getting CRN Number from your bank
CRN number is a unique verification number provided by your bank which is an assurance that your Bank account is linked with your Demat account. You can get CRN numbers from any number of banks or financial institutions that provide ASBA facilities.
Now that you have all these requirements fulfilled, let's get started on how to apply for IPOs in Nepal.
1. Stay Informed About Present and Upcoming IPOs
IPOs in Nepal generally run for 4 to 5 days and if you don't apply for the issue on these issue dates, you will miss the opportunity.
So you must be informed about the running and upcoming IPOs. You can get the news on IPOs via the official website of the Securities Board of Nepal here. Also, the news portals like ShareSansar and MeroLagani also provide news related to IPOs.
Make sure to mark the details like the date of the issue, the volume of the issue, and use your own conscience on how much you should apply for the issue.
IPOs generally have an offering price of Rs. 100 and you must apply for at least 10 units.
2. Apply For IPOs
When you know that there is an issuance of any company's IPO and you've made up your mind to apply for the issue, here the way how you can invest in the IPO of the company.
2.1 Applying IPO online through Meroshare (Recommended)
This is one of the easiest ways to apply for IPO issues in Nepal online. You can apply for IPOs from anywhere connected to the Internet.
To apply for IPOs with meroshare first, log in to your meroshare account with the credentials. Then click on My ASBA from the left sidebar which will show the current issues.
Next, click on Apply for Issue tab and click Apply button on the Issue you want to apply for. It will open an application form that you need to fill to apply for the issue. Select from the list of banks you have linked with your Demat account and it will automatically load branch and Account number. Remember that you must have a CRN number for the bank you selected from the list. Then enter the number of units you want to apply for. Then enter the CRN number of the bank.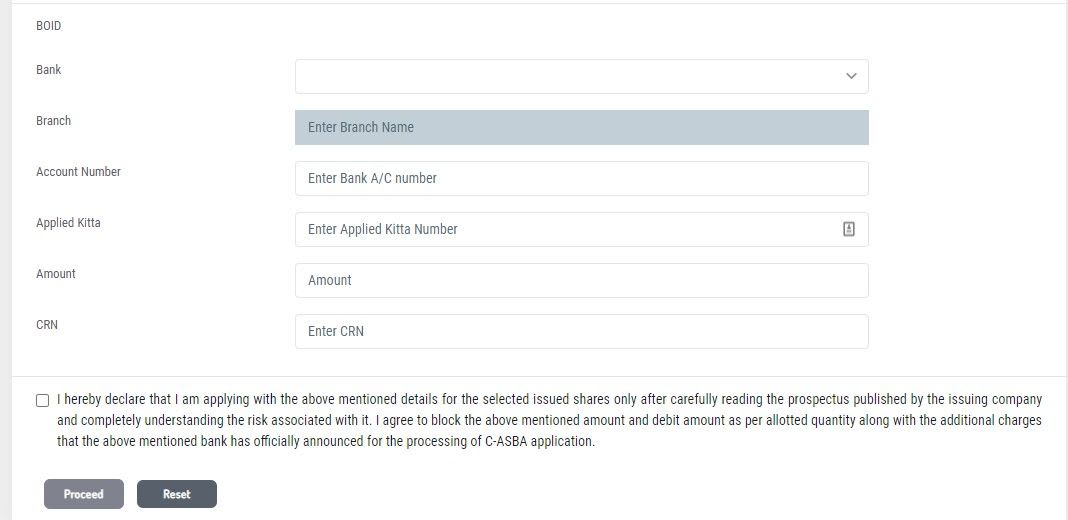 It will then ask for a 4 digit security pin which has to be set the first time you open your meroshare account. Enter the pin and submit the form. The IPO will be applied successfully.
When you apply for IPO your bank will verify your application and the amount will be blocked from your account. It may take a day or two for the bank to verify your application. After this, you just have to stay back and hope that you are allotted the stocks.
2.2 Applying IPO without Meroshare
You can apply for IPOs without a Meroshare account as well. This is the traditional method of applying for IPOs in which you need to visit the bank with a CRN number and fill up and submit a form for application.
To apply for IPOs offline in Nepal, visit the bank you have linked your Demat account with and ask for a C-ASBA form. Then fill-up the form with details like Issuing Company, Issuing Capital, Units, and CRN number and submit the form to the bank.
Then the bank will verify your form just like in the online application.
3. Result and Allotment
After the date for the issue ends, the company publishes the allotment results in a few days.
You can check if you have been allotted via your meroshare account. For this go to your My ASBA section on your meroshare account from the left sidebar. Then go to the Application report and click on Report on the right side of the issue you applied for. If you have been allotted, it will show "Allotted" on the status section and also show the allotted quantity. Else it will show "Not Allotted".
Also the result for allotments are shared by new portals like MeroLagani and ShareSansar.
What Now?
If you have been allotted the IPO, the company is listed on NEPSE in a few days and it will start trading on the secondary market. You can sell it on the secondary market to book the profit or hold the company for a long term in your portfolio.
Read: How to Buy and Sell Shares Online in Nepal?
If you have not been allotted, then the blocked amount will be released. You can always buy the same or other stocks from the secondary market. Also, be informed about the upcoming IPOs.
I hope this article will be helpful to anyone who wants to apply for IPOs in Nepal online and also via offline methods.
Happy investing!
Subscribe to Nepse Ninjas
Get the latest posts delivered right to your inbox